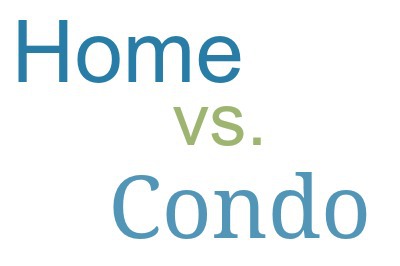 There are many similarities between buying a home and buying a condo. In both cases you are purchases real property and need to insure your purchase and possessions inside it. However, when you purchase a condo you are connected to a larger community and that is where your insurance needs may differ.
House v Condo
One of the key differences between home and condo ownership concerns how much of your residence you have to insure. Buying a home means you own and are responsible for the inside and outside of your place, including the land it sits on.
Buying a condo, on the other hand, only leaves you solely responsible (usually) for the interior of your place. The outside land, condo building structure, and building common areas are all typically jointly owned by you and your fellow condo dwellers and insured by your homeowners association (HOA).
Because condo living brings these slightly different responsibilities, it wouldn't make much sense to arrange your condo insurance the same as you would a homeowners policy.
Dwelling (Insured Condo)
On a condo policy, owners normally need just enough protection to rebuild the interior of your unit. This includes all interior walls, cielings and flooring. External repairs to the building, exterior walls, hallways, elevators, if damaged by a covered risk, would be the responsibility of the HOA insurance. In some cases, the HOA policy includes coverage for the interior structures of your unit. If this is the case, you could find you need less personal condo insurance.
Dwelling (Insured Home)
Dwelling coverage under homeowners insurance should be high enough to cover the total rebuilding cost of the entire house. The coverage amount should also include any other buildings or structures, like sheds, fences, detached garages and carports. The cost to rebuild is often higher than purchase price and that generally requires homeowners to carry higher limits of home insurance.
Condo Liability Coverage
You could be held responsible if visitors in your condo are injured, you accidentally injure someone away from home, or you damage someone else's property. You'll want personal liability coverage to help you avoid paying out of pocket in these situations. However, you typically don't need liability protection for claims involving building common areas — if a visitor slips in the pool area or falls down in the lobby entrance, your HOA insurance should cover these accidents.
Homeowners Liability Coverage
Much like condo owners, homeowners can be found liable for injuries that happen in their residence or away from home, plus property damage they cause. Homeowners, unlike condo owners, also have to consider injuries that occur on the land around their home. Traditional homes often have room for items that a condo unit doesn't. These items, such as pools, trampolines, and playground equipment, need special consideration for additional liability coverage.
Personal Property
Insuring personal belongings is the main responsibility for condo owners, as your HOA master coverage does not typically extend protection to your stuff. In fact, the value of your electronics, jewelry, furniture, clothing, and all the rest of your property is perhaps the key factor in determining how much condo insurance you need.
Personal property coverage needs are essentially the same for homeowners. You'll want enough protection to cover the total value of all your belongings. As we mentioned last week in our blog, an inventory of your belongings is key to any personal property claim in either a condo or stand alone home.
Insuring your Purchase
Homeownership of any kind is a major responsibility. There's no shortage of insurance risks around every corner and tucked in every crawlspace. No matter whether you decide to purchase a condo or house, being covered by the correct type and amount of insurance is key.
Our team of agents are standing by to help you find the right policy for your home. Click here for a free condo insurance quote or visit our homeowners policy page for a quote on your new home.