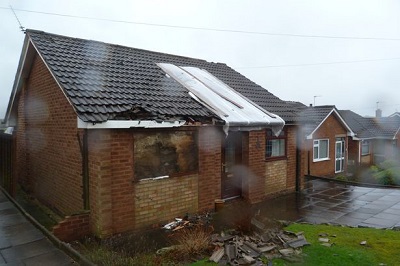 Spring has arrived in much of the United States and with that comes severe spring weather. While many are thinking about spring cleaning and making plans for gardening, severe weather has already affected home owners in the Plain States.
Increase in Severe Weather
Over the last 4 years records for the severity of the weather conditions and the total of the claims paid out have broken records. If the forecasters are correct and climate change is a reality, we can expect to see more extreme weather all year round.
When was the last time you checked your homeowners coverage to see if you are fully protected against severe weather damage? Survey's among homeowners show that more than half of all policyholders do not have adequate coverage. While the roof and 4 walls are insured, most policies fail to protect personal possessions in the home.
Are you Covered?
The insurable amount they see in the policy is usually a maximum amount claimable. Most insurers mistake this as a fixed percentage of the rebuilding costs. If you need more than this average, you will need additional coverage. When seeking that additional coverage for possessions you will need a complete inventory of your assests in your home.
Keeping Track
The survey discovered that even when people do have a list of the more expensive items kept in the home, less than half have receipts and only about a quarter have photographic records. Only a tiny percentage of people keep a back-up copy of their records outside the home.
In the worst of severe weather damage, proof and evidence of your belongings can be lost. Technology has become a big help in this area for homeowners. With simple and free technology it is easier than ever to create an electronic list, complete with photos and store the document in the "cloud". The more complete and accurate your records are, the more complete and satisfactory your settlement will be.
Make a List
When creating your inventory list use this formula:
Description,
Serial numbers (and bar codes when available)
A brief statement about the current state
Most homeowner plans are not written to replace everything new. The amount of money you receive will be the amount needed to replace it as it was. For instance, the amount you will receive for a 10 year old couch, will not be the amount you would need to purchase a new couch. Details concerning age and condition are key to the description and statement on your list.
Get Started
Need help creating your lists? Start here with these easy check lists. Don't forget the garage, shed and utility closets. Secondly, contact your insurance agent and talk about your current coverage to better understand how you are covered. Remember, an empty home is not a home. Plan now so if severe weather causes you a financial loss, you are prepared to claim the full value of all the contents of your home.
Here at Meridian our agents are ready to help you in any way we can to make sure you are protected. Give us a call today at 800-207-7079 or visit the Home Insurance page here on our site for a free quote.