Many Americans will proudly display their American flag during appropriate holidays. Memorial Day, Flag Day, Independence Day and November's Veteran's Day observance are the 4 most popular.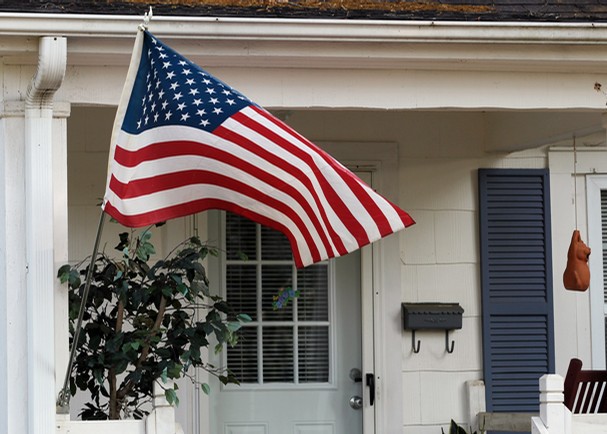 Front Porch Display
It is idea that the flag hang from a pole that angles away from your home. Install the staff and holder at a height so that the flag does not touch the ground. Secure it tightly to prevent it from being damaged or soiled.
When the flag is displayed in this manner the union (blue portion with stars) is always to be at the peak.
Attached to a Wall
If your flag is hung flat against a wall the union should be displayed at the upper left hand corner. When displayed in a window, the same rule applies when observed from the street, not the interior.
Nighttime Display
It is customary to fly the flag from sunrise to sunset. The US Code allows for around the clock flying. However, when the flag is displayed or flown during dark hours it is to be illuminated.
Reminders
The flag is not meant to be worn or used as draperies, bedding or ceiling decoration. Diplaying Old Glory as described above is how to best show your patriotism and respect to those who served to protect its ideals.
For more information on the history, care and proper display of America's flag visit http://www.usflag.org/.